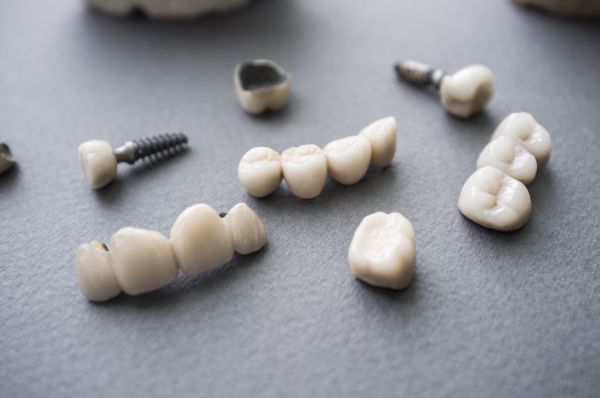 In addition to straightening your damaged teeth, dental crowns and tooth bridges can be used to improve your teeth's shape, appearance and alignment. Gaps in your smile from missing teeth can create additional dental problems. The remaining teeth can begin shifting, which results in a bad bite. Crowns and bridges can prevent this from happening in your mouth.
What Are Dental Crowns and Tooth Bridges?
Crowns and the majority of bridges are prosthetic devices that are fixed in place by a dentist. These differ from removable devices like dentures. They are cemented onto either implants or existing teeth. Only a dentist can take them out.
How do dental crowns work?
This new restoration is used to completely cap or cover a damaged tooth. It offers extra protection to avoid any further deterioration. In addition, a crown can improve the appearance, alignment or shape of a person's teeth. A dentist also uses crowns to cover dental implants, providing a natural tooth shape and functionality. These restorations can replace large fillings, allow bridges to be placed or cover a tooth after root canal therapy.
Ceramic or porcelain crowns can be created to blend in with the color of the remaining natural teeth. Other materials used include metal alloys, gold and acrylic. These options tend to be stronger than porcelain, and the dentist may recommend them for a patient's back teeth. Porcelain can be bonded onto a metal shell, so it is both attractive and strong.
How do bridges work?
Missing teeth can create an imbalance in the mouth that may lead to gum disease or TMJ disorders. It is routine for dentists to recommend a bridge to replace missing teeth. It will span the area where the patient has missing teeth. The dentist cements the tooth bridges on either natural teeth or to implants that surround the gap to hold them in place. These teeth are called abutments and will act as anchors for the tooth bridge. The replacement tooth is called a pontic and is attached to the crowns covering the abutments.
There are different material choices for the bridges. A dentist will be able to help a patient decide which material should be used. This will depend on where the missing teeth are located, the function of the bridge and any aesthetic concerns a patient may have.
How are bridges and crowns created?
The teeth must be shortened, so the bridge or dental crown can fit over them correctly. Once this is done, a dentist will make an impression of the teeth to create a mold. A lab will craft the crowns and bridges using these impressions. When the new restorations are ready, the dentist will cement them over the prepared teeth.
How long do bridges and crowns last?
Sometimes a crown or bridge can last a lifetime. Other times, they can fall out or become loose. To help ensure the longevity of these restorations, patients should continue normal oral hygiene habits. Brushing and flossing will keep gums and teeth healthy. Patients should keep regular dentist appointments as well.
Dental Crowns and Tooth Bridges Can Normalize Smiles
If you are tired of your missing or damaged teeth, a dental crown or bridge can help restore your smile to its previous appearance.
Request an appointment or call Integrated Dental Care at (610) 600-9745 for an appointment in our Exton office.