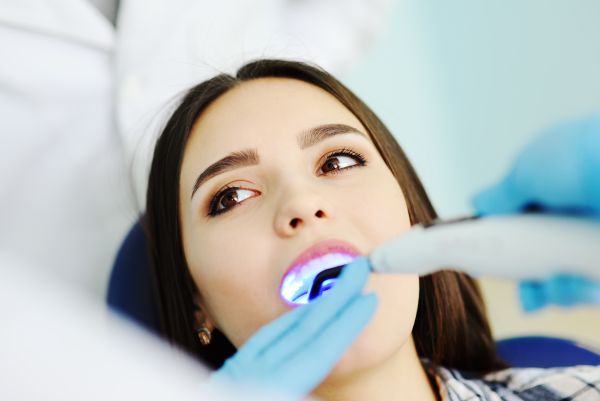 In addition to teeth bleaching, there are many treatments and services you can take advantage of when you visit your dentist. Dental care is an integral part of your overall health. That is why fixing cavities, gum disease and other issues is so critical. Dentists also care about the cosmetic factors that go along with your teeth, which is why many people choose bleaching. Your dentist can provide multiple in-office treatments or even send you home with fitted trays that you can use each night.
Some patients are concerned about safety issues related to bleaching procedures. One of the most common questions is whether these methods can adversely affect your gums. Rest assured that side effects with whitening agents are minimal and rare. If you have these concerns or others, it is important to talk about them with your dentist.
Potential Gum Problems
No dental or medical treatment is completely risk-free all the time. Thankfully, bleaching procedures have few negative effects on the majority of patients. Gums can be susceptible to irritation during bleaching and whitening methods. Some patients experience a burning sensation either while using at-home bleaching trays or by undergoing treatments at the dentist's office. This is the result of a chemical burn, although the discomfort should only persist for a short time, usually less than 24 hours.
Rare Cases
Though some patients may complain of this burning or uncomfortable feelings, most people have no such problems. Teeth bleaching will almost certainly ever cause permanent damage to gums. People who do experience pain in the gums should contact their dentist immediately. Patients who either visit the dentist for treatments or who use over-the-counter products should have no worries because teeth bleaching can be effective.
Pain Relief
One should not panic in the event pain and irritation accompanies the bleaching. Dentists urge patients to use simple treatments to minimize or eliminate these feelings. The most common response is to rinse with warm saltwater. Some users say that vitamin D oil can also help. Dental professionals recommend using less peroxide gel for people who experience side effects with at-home kits.
Other Issues With Teeth Bleaching
Most people will have a positive reaction to the bleaching process and may see the results they are looking for. But, in some cases, dentists may discourage this treatment. Pregnant women and nursing women should postpone bleaching. Also, patients who have extremely sensitive teeth might want to reconsider going through this process. Sometimes, people with weak enamel report ineffectiveness in the treatment, so consider whether this is applicable.
Conclusion
It is never easy to admit you have a flaw or blemish, especially with your smile and with your mouth and teeth. Bleaching can be a great way to help solve these issues, regardless of your age. Make sure you call your dentist today. Get a recommendation of whether you should pursue a whitening method. Your dentist can help you make an informed decision and do what is right for your needs.
Request an appointment or call Integrated Dental Care at (610) 600-9745 for an appointment in our Exton office.