Cone beam computed tomography or CBCT is rapidly becoming the new standard of care in dentistry. Although many dentists have yet to adopt this new standard, we understand how important this technique in helping to diagnose and therefore offer the best course of treatment for our patients.
What Is a "Standard of Care"?
Standard of care initially began as a legal concept for use in medical malpractice lawsuits. The standard of care was the normal precautions or steps that a treating doctor or dentist should take to ensure proper diagnosis and treatment of a certain condition.
Partly because of the influence of medical malpractice lawsuits in the practice of medicine, and partly because doctors and dentists are always interested in improving the scope of their profession, there is more talk among professionals these days about adhering to and improving the standard of care, especially with the advent of improved digital technology.
Why CBCT Is Becoming the Standard
Since its introduction, the profession has begun to understand the power of CBCT for analyzing and finding many, often chronic, dental problems and conditions. Traditional x-ray techniques, both on film and digital, only provide a two dimensional picture of a three dimensional object. What the CBCT gives us, is a three-dimensional view of the bones, teeth, and other hard tissue, thereby allowing us to get a comprehensive view of areas that may have been hidden in traditional two dimensional imaging. There's no longer a need to guess about the three-dimensional shape of tissues on the basis of a flat x-ray image.
The CBCT allows a dentist to get more detailed information about structures within the tooth and jaw bone, making it essential for modern Endodontics and dental implant planning. The CBCT has also become an important tool in evaluating sleep apnea risk as well as treatment planning adult orthodontic cases to determine if tooth movement could potentially be detrimental to bone levels in the future.
Is it Safe?
Radiation safety awareness is always of concern. That being said, not all CBCT units, or for that matter, x-ray units are created equal. However, in general, advances in digital technology have permitted significant reductions in exposure compared to conventional film and the utilization of radiologic imaging software allow us to enhance and manipulate images.
Putting it in perspective, the background effective dose everyone is exposed to on a daily basis is 10 micro-sieverts (µSv). The dose per person from food per year is about 400 µSv; a full series of 18 individual x-rays, 70 - 90 µSv; a flight from New York to LA, 60 µSv; and smoking 1.5 packs a day, 36,000 µSv. The effective dose in some CBCT units can be as low as 27 µSv.
In Conclusion
With anything in medicine or dentistry we must always weigh the risk to benefit of what we do. However, as the individual overseeing your care, we have an obligation to gather as much information as possible, utilizing the most comprehensive diagnostic tools available. If you are due for x-rays, been having gum/tooth issues that won't seem to resolve despite treatment, or plan to have a dental implant, set up an appointment to be evaluated via CBCT. Most scans take only 14 seconds, and can reveal a wealth of informations. In most instances, your insurance could cover all or a portion of the cost.
Traditional two-dimension x-ray. Patient complains of discomfort radiating to ear and eye.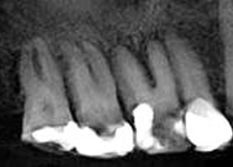 CBCT reveals an infection that has caused a breach in the floor of the sinus, with resulting infection in the sinus (arrow).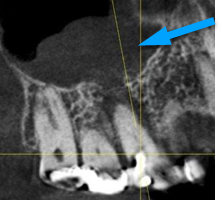 Cross-section view showing breach in the floor of the sinus (arrow).